Ancient grain farm & organic winery tour
Availability: Mondays , Tuesdays , Wednesdays , Thursdays , Fridays
Duration: 6 hours
Rates
TWO ORGANIC FARMS: THE PRIDE OF A TERRITORY 
Our exclusive and original tour allows you to visit two of the most representative organic farms of the whole district of the Pisan Hills and taste their genuine and delicious produce. In the morning we visit a renowned grain farm that recovered ancient seeds of grains that have disappeared from the contemporary farming and that today produces flours, pasta and biscuits with a "forgotten" flavor. In the afternoon we enter the property of a family of nobles who produce some of the best wines in the Pisan wine district. A voyage into wise organic farming in an unbelievably beautiful countryside.
A grain farm linked to the Etruscan times
Our very exclusive and fascinating day tour starts with the visit to a family-run organic farm in the stunning countryside around Volterra that produces grains and legumes and processes them into renowend top quality flours and final products like pasta and cookies. The peculiarity of the company is a incredible research they started from in order to recover ancient grains that today are impossible to find in the global farming markets, including spelt (farro) and Etruscan wheat, a local variety of grain that the pre-roman civilization of Tuscany used here thousands of years ago. Our guide will give you a detailled introduction to the whole agricultural production of the company as well as to their stone mill that produces unique flours and to their pasta factory and bakery that make from maccheroni to bread and biscuits.
All the produce of the company will be served in a fantastic lunch where you can taste grain soups and salads, dressed vegetables, pasta dishes, bruschettas with their bread and olive oil and delicious cookies.
A historical winery, symbol of farming aristocracy
The second part of the day is dedicated to another original family-run farm, since decades devoted to the production of renowned wines and unique extra virgin olive oil. The company is owned by a family of counts that developed their wine business in their ancient premises, right in the middle of a stunning hilltop medieval village. Our visit starts with a little walk in the village before entering the majestic noble villa where part of the family still lives today. The tour continues into the stunning monumental gardens in front of the villa and finally into the historical underground cellar where the precious wines age still today. Finally, we sit in a charming tasting room and we sample all their wines and olive oil with some little snacks accompanying the tasting session.
This day tour is a memorable jump into the spirit of the local organic farming in Tuscany!
What you taste
This is a list of specialties that you are likely to sample as part of the program of this tour. Please, note that the specialties of the tasting session and/or lunch may vary according to the season and the availability of the products in the day of the tour.
Whom you meet
In our tour we like showing you places off the beaten track and introducing you to Tuscan people with their personal stories, careers and characters. You will have one of our guides with your party during the whole tour. Please, see below all the guides who can be with you. During this experience you can also meet some of the Tuscan friends involved in the events. Please, see below which friends you are likely to encounter.
Rates
Rates Table
The total rate for this activity varies according to the number of people in your party.
Check rates in the table below.
Ancient grain farm & organic winery tour

– RATES 2019 –

NUMBER OF PEOPLE IN YOUR PARTY

TOTAL RATE

2 persons
€ 390
3 persons
€ 460
4 persons
€ 530
5 persons
€ 600
6 persons
€ 670
7 persons
€ 740
Extra Adult
€ 70
Extra Teenager (12-17 yrs)
€ 50
Extra Child (4-11 yrs)
€ 40
Rates include
A tour leader for the whole tour
A guided visit to the ancient grain farm, the mill, the bakery and the pasta factory
A full lunch with all produce of the grain farm
A guided visit to a historical winery
Sampling of wines and olive oil with snacks
Tax
Rates do NOT include
Transportation is not included in the rates above. For more info on transportation, please see the box "Transportation options".
Testimonials from our guests
This is an email we received from Nancy after a specialty food tour with Luca:
Luca
We are on our way to Pisa now, our last stop before heading home. We loved the tour! It was definitely a highlight of our trip. Once I'm home and have uploaded my pictures, I'll send you some. If you're ever in Southern California, please let us know.
Nancy
Info & Details
LOCATION OF ATTRACTIONS:
This tour takes place in the rural area of Peccioli, between Pisa and Volterra.

MEET-UP LOCATION:
Unless differently specified, the tour guide meets you at a meeting point in Peccioli.

DURATION:
This program takes 6.5 hours. Time for transportation not included.

AVAILABILITY:
Available all year through from Mondays through Fridays.

LANGUAGE:
This tour is available in English, German, French, Spanish, Russian or Italian with no surcharge.

DIFFICULTY LEVEL:
Easy

CHILD FRIENDLY:
Ideal for children

CLOTHING:
No particular clothing required.

FOOD RESTRICTIONS:
The foods served during this tour might contain gluten, lactose, nuts and alcohol. If you have any food restriction, please inform our personnel during the enquiry process.

TRANSPORTATION:
This program and its rates do not include transportation and are set on a self-driving base. For further information see the box "transportation options".
Transportation options
The destinations reached during this activity are in the Tuscan countryside, in areas off the beaten track that cannot be reached by public transport. We highly recommend renting a car or a scooter in order to reach them. As an alternative, we can offer a valued service by chauffeured car, van or minibus. Any cost of transportation is to be added to the rates displayed on the rate table of this page.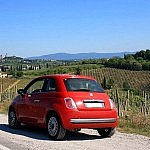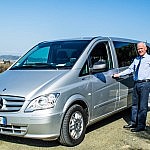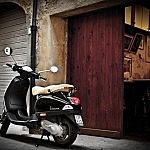 Organize your perfect vacation with us!
Booking office opening hours:
Monday through Friday 9am-6pm
Contact us