Volterra walking tour with visit to Palazzo Viti
Availability: Mondays , Tuesdays , Wednesdays , Thursdays , Fridays , Saturdays
Duration: 3 hours
Rates
JUST THREE MILLENIUMS OF HISTORY
Volterra is a world famous perfectly preserved medieval town. Yet, the medieval look is a "recent" intervention on top of one of Tuscany's most important Etruscan settlements. Over the centuries Velathri (as the Etruscans called it) got important also for the handicraft production of an ancient stone given to the city as a present by the sea… the alabaster. Arianna & Friends arrange private half-day tours to Volterra and its treasures.
Volterra, the pearl among the Etruscan towns
We start our tour directly in Volterra, where you meet our English speaking local city guide for a fascinating walk around this magic town. While passing along narrow winding lanes into sumptuous monumental squares, you will learn a great deal about the very original habits and culture of the Etruscans, a pre-roman civilization that settled in Tuscany as well as in most central Italy.
The historical introduction will go through the traces of any cultural and artistic influence that followed the Etruscans: the Roman theater in a breathtaking panoramic side of the town, the late medieval and early Renaissance Piazza dei Priori, the majestic Medicean Fortress, raising right next to a charming and relaxing park and nowadays hosting a maximum security prison.
The elegance of Palazzo Incontri-Viti
Our tour includes a guided visit to Palazzo Incontri-Viti, one of the best preserved renaissance and baroque palaces in the center of the town. The palace is still inhabited by the noble owners and shows furniture and fittings typical of noble palaces of the 19th Century.
The alabaster workshop
The walking tour Volterra is completed by the visit to a traditional alabaster workshop, where you can see how the expert hands of the workers produce a nice and elegant vase from a piece of rough stone.
Finally, you will relax at a renowned café in town and taste some excellent espresso coffee or chocolate or enjoy a locally produced gelato.
What you taste
This is a list of specialties that you are likely to sample as part of the program of this tour. Please, note that the specialties of the tasting session and/or lunch may vary according to the season and the availability of the products in the day of the tour.
Whom you meet
In our tour we like showing you places off the beaten track and introducing you to Tuscan people with their personal stories, careers and characters.
You will have one of our guides with your party during the whole tour. Please, see below all the guides who can be with you.
During this experience you can also meet some of the Tuscan friends involved in the events. Please, see below which friends you are likely to encounter.
Rates
Rates Table
The total rate for this activity varies according to the number of people in your party.
Check rates in the table below.
HALF-DAY GUIDED TOUR OF VOLTERRA, ENTRANCE TO PALAZZO VITI AND
VISIT TO AN ALABASTER WORKSHOP

– RATES 2021 –
Valid from March through October

NUMBER OF PEOPLE IN YOUR PARTY

TOTAL RATE

2 persons

€ 260

3 persons

€ 280

4 persons

€ 300

5 persons

€ 320

6 persons

€ 340

7 persons

€ 360

8 persons

€ 380

9 persons

€ 400

Extra Adult

€ 20

Extra Teenager (12-17 yrs)

€ 20

Extra Child (4-12 yrs)

€ 20
Rates include
An English speaking Volterra city guide for the whole tour
A historical guided walking tour in Volterra
Entrance and guided visit to the museum of Palazzo Viti (from March through October)
A guided visit to an Alabaster workshop
Stop for coffee or chocolate at a renowned café in town, or a gelato
Tax
Rates do NOT include
Transportation
Extra opening of Palazzo Viti: from November 2019 to April 2020 the palace only opens for private visits at a cost of 130 Euro.
Transportation is not included in the rates above. For more info on transportation, please see the box "Transportation options".
Testimonials from our guests
Here the nice message of Anne and Charlie who enjoyed a private guided tour of Volterra with our guide Moira:
My husband and I took a vacation in Tuscany in September. A region we didn't know a lot about. We took three tours with Arianna & Friends. One was a half day tour of Volterra and the other was a similar tour in Sienna. Both were fabulous. Our tour guides were so knowledgeable and prepared. They introduced us to new foods, explained the history of the town and shared with us in depth information and stories about the different cultures of these towns in Tuscany. We recommend them highly. We did them as private tours, which we don't normally do, but this was worth the extra expense, and was not unreasonable.
The highlight of our trip, was a private cooking lesson at a farmhouse. It was nothing short of spectacular. Esther our teacher, a restaurant chef for many years, and Luca our guide, and at times excellent translator, were amazing teachers. They taught us techniques and many other tips about Tuscan cooking. Before we left the U.S. for Tuscany they sent us menu options for us to choose, for our four course meal, which had many of options.
We chose spinach and cheese dumplings in a butter and sage sauce. The next course was homemade pasta with a sausage ragu sauce. Next was a beef stew with vegetables and potatoes. And for dessert, a delicious apple cake.
We were lucky enough to have one of those beautiful evenings with a stunning sunset. We ate under a canvas pergola. It was a magical evening.
We can't thank Esther and Luca enough; our wonderful hosts. If you get the opportunity to do this, you will never forget it. And, when we came home, we made everything Esther and Luca taught us. Thank you again.
Please feel free to keep in touch. We really enjoyed your company and getting to know you.
Best regards,
Anne and Charlie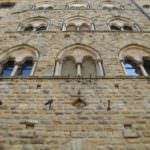 Here a message from Lori, who enjoyed a guided tour of Volterra with Moira:
Greetings!
We are just home from our amazing trip to Tuscany – where we had the most incredible time with Veronica (Romantic Cooking Class) and with Moira (Volterra tour) and with Luca (Cheese Farm)!!
I have so much to say, and will certainly post to TripAdvisor all my wonderful praise!!
But first – I have a request.
May I get the recipes that we made with Veronica? She mentioned that if I email she will be able to share them with me.
Ravioli ricotta e spinaci al burro e salvia
Fagioli rifatti con la salsiccia
Torta cioccolato e pere
Thank you so much!!!!
Simply perfect!
Lori
This is an email we received from Lilian. She booked a special package in Volterra with a "New Moon Tour".
Dear Consuelo,
The "New Moon" tour was wonderful. We were very well attended by his entire team. See our comment on Facebook (use google translator if you need – Portuguese). Send us other links to post our comments (as Tripadvisor).
If they come to Rio de Janeiro, do not forget to visit us. It will also be glad to assist them with information and road maps or anything that need in Brazil. Please pass this invitation to everyone on the team.
Best regards, Lilian and Luiza
Info & Details
LOCATION OF TOUR:
This walking takes place in the town of Volterra, in central Tuscany.

MEET-UP LOCATION:
Unless differently specified, the meeting point with the guide is in Volterra. Detailled instructions will be provided.

DURATION:
This program takes 3 hours. Time for reaching the meeting point not included.

AVAILABILITY:
Available from March through October, from Mondays through Saturdays. Not available on Sundays.

LANGUAGE:
This tour is available in English, French or Italian with no surcharge. For German, Russian or Spanish a surcharge applies.

DIFFICULTY LEVEL:
Easy

CHILD FRIENDLY:
Ideal for children

CLOTHING:
No particular clothing required.

TRANSPORTATION:
This program and its rates do not include transportation to the meeting point and are set on a self-driving base. For further information see the box "transportation options".


Transportation options
The destinations reached during this activity are in the town of Volterra, an area that can be reached by private and public transport. It is possible to reach Volterra by public bus service.
Yet, the public service is not well diffused in all Tuscany so we highly recommend renting a car or a scooter in order to reach the meeting point.
As an alternative, we can offer a valued service by chauffeured car, van or minibus. Any cost of transportation is to be added to the rates displayed on the rate table of this page.
Organize your perfect vacation with us!
Working hours:
Monday through Friday 9am-6pm
Contact us