Guided walk in San Gimignano and the museum of Vernaccia
Availability: Mondays , Tuesdays , Wednesdays , Thursdays , Fridays , Saturdays , Sundays
Duration: 2 hours
Rates
THE SKYSCRAPERS OF THE MIDDLE AGES
San Gimignano got worldwide famous for its high medieval towers, wonderful example of the building customs in the late Middle Ages. We arrange private guided tours with a local licensed guide to San Gimignano and its surroundings. Our tours are an opportunity for you to learn how the town was such a crucial center for pilgrimages over Italy and how it got into decay after importan historical  facts in the surrounding.
The fantastic rural area around it make it the perfect point for trekking tours as well as for biking or Vespa routes.
Our guided tours of San Gimignano include also a visit to the museum of Vernaccia, the famous DOCG white wine typical of the area around the town. The museum is open from 1st April through 1st November every year.
Here is a list of main attractions:
– the stone towers of San Gimignano
– the fortress of San Gimignano
– the well in the main square
– the medieval walls
Combinations with tours to Siena or Volterra are possible.
Whom you meet
In our tour we like showing you places off the beaten track and introducing you to Tuscan people with their personal stories, careers and characters.
You will have one of our guides with your party during the whole tour. Please, see below all the guides who can be with you.
During this experience you can also meet some of the Tuscan friends involved in the events. Please, see below which friends you are likely to encounter.
Rates
Rates Table
The total rate for this activity varies according to the number of people in your party.
Check rates in the table below.
 SAN GIMIGNANO two-hours GUIDED SIGHTSEEING TOUR,
WITH visit to the vernaccia museum

– RATES 2019 –

NUMBER OF PEOPLE IN YOUR PARTY

TOTAL RATE

2 people

€ 240

Extra person, teenager or child

€ 15

The Vernaccia museum in San Gimignano is open from 1st April to 1st November. In the off season a visit to the church of the town is included instead.
Rates include
A private English speaking licensed Lucca city guide for the whole tour
Rates do NOT include
Entrance to any museum or monument in town
Entrance to the cathedral, varying from 5 to 8 Euro according to the season
Transportation
Transportation is not included in the rates above. For more info on transportation, please see the box "Transportation options".
Testimonials from our guests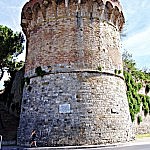 This is a message we received from Betty, who visited Siena, San Gimignano and Florence and met Arianna for one of our cookery lessons.
Dear Arianna,
I cannot thank you enough for the wonderful experiences we had on our Italy trip. Isabelle is a fantastic guide and she enabled us to get the most out of a short journey to such historic sites. Our entire family will not ever forget our cooking class with you and Ester. I will be sure to write the reviews for Trip Advisor since that is how I found you myself.
Thank you for your patience with our bad driving. I am so very glad that we eventually found you!!
Happy Easter! Best regards, Betty
Info & Details
LOCATION OF TOUR:
This walking tour takes place in the town of San Gimignano. The meeting point can be reached by private and public transport.

MEET-UP LOCATION:
Unless differently specified, the meeting point with the guide is in San Gimignano downtown. Detailled instructions will be provided.

DURATION:
This program takes 2 hours. Time for reaching the meeting point not included.

AVAILABILITY:
Available all the year through, any day of the week.

LANGUAGE:
This tour is available in English, French or Italian with no surcharge. For German, Russian or Spanish a surcharge applies.

DIFFICULTY LEVEL:
Easy

CHILD FRIENDLY:
Ideal for children

CLOTHING:
No particular clothing required.

TRANSPORTATION:
This program and its rates do not include transportation to the meeting point and are set on a self-driving base. For further information see the box "transportation options".
Transportation options
The destinations reached during this activity are in the town of San Gimignano, an area that can be reached by private and public transport. It is possible to reach San Gimignano by public bus service.
Yet, the public service is not well diffused in all Tuscany so we highly recommend renting a car or a scooter in order to reach the meeting point.
As an alternative, we can offer a valued service by chauffeured car, van or minibus. Any cost of transportation is to be added to the rates displayed on the rate table of this page.
Organize your perfect vacation with us!
Booking office opening hours:
Monday through Friday 9am-6pm
Contact us