Guided walking tour of Siena
Availability: Mondays , Tuesdays , Wednesdays , Thursdays , Fridays , Saturdays , Sundays
Duration: 3 hours
Rates
THE PALIO AND ALL THE REST
Siena is world renowned for a breathtaking horse race called Palio that takes place in its central square and that originated in the middle ages. The medieval setting in town is today perfectly preserved and the whole town center is listed in the Unesco world heritage.
Visiting Siena requires a detailled introduction by a licensed local guide. Arianna & Friends arranges guided walking tours with the most professional and skilled city guide in town. We personalize the route in town according to the main interests of the visitors' party, making sure that the walk does not miss any main attraction in town.
Our guide will let you understand the unique spirit that joins the town with its inhabitants and why their traditions are still so strongly rooted in the people.
We can facilitate the purchase of access tickets to the Duomo and the astonishing terrace Porta del Cielo as well as to any monument or museum in Siena.
Here is a list of whan you can visit in Siena:
– the cathedral complex
– the Piazza del Campo
– the mazy town centre
– the contrada fountains
Our talented guide will be super-happy to customize your route according to your interests.
Whom you meet
In our tour we like showing you places off the beaten track and introducing you to Tuscan people with their personal stories, careers and characters.
You will have one of our guides with your party during the whole tour. Please, see below all the guides who can be with you.
During this experience you can also meet some of the Tuscan friends involved in the events. Please, see below which friends you are likely to encounter.
Rates
Rates Table
The total rate for this activity does not vary according to the number of people in your party.
Check rates in the table below.
 SIENA HALF-DAY GUIDED SIGHTSEEING TOUR

– RATES 2019 –

NUMBER OF PEOPLE IN YOUR PARTY

TOTAL RATE

from 2 to 20 persons

€ 210

Access to Cathedral

€ 5 to € 8 per person according to season
Rates include
A private English speaking licensed Siena city guide for the whole tour
Rates do NOT include
Entrance to any museum or monument in town
Transportation
Access to the cathedral costs 5 to 8 Euro per person according to the season.
Transportation is not included in the rates above. For more info on transportation, please see the box "Transportation options".
Testimonials from our guests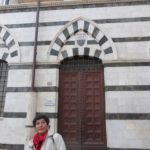 Here the message of appreciation of Ken who visited Siena with our experienced guide:
Cheryl and I are now home with fond memories of our time in Tuscany this year.  We are very thankful to Arianna and Friends for many fun days.
We look forward to seeing you again next year
All the Best,
Ken & Cheryl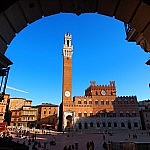 This is a message we got from Anne who met our guide in Siena and experienced a great walking tour with her:
We have not stopped talking about our wonderful day in Tuscany.  Sylvia was a delight!  We will definitely use your services again and will be sure to pass your information on to any friends that are travelling to Italy.  We are now back in the U.S.  Tired but so happy with our trip.
You are certainly welcome to use anything I have said on your website.  I immediately gave you a glowing review on TripAdvisor as well!  I have talked and talked about the wonderful time we had in Tuscany.  My husband and I have celebrated our 10, 15, 20, and now 25 year anniversaries in Italy and we've been fortunate enough to take two additional trips to Italy as well.  Just last night he said he is not waiting another 5 years to go back.  We want to come back and have Sylvia take on a tour south of Siena!  You will be one of my first contacts when we plan our next trip!!!
I'll be sure to post something on Facebook very soon.
Anne
Info & Details
LOCATION OF TOUR:
This walking tour takes place in the city of Siena. The meeting point can be reached by public transport.

DURATION:
Unless differently specified, the meeting point with the guide is in Siena downtown. Detailled instructions will be provided.

DURATION & LENGTH OF ROUTE:
This program takes 3 hours. Time for reaching the meeting point not included.

AVAILABILITY:
Available all the year through, any day of the week.

LANGUAGE:
This tour is available in English or Italian with no surcharge. For German, French, Russian or Spanish a surcharge applies.

DIFFICULTY LEVEL:
Easy

CHILD FRIENDLY:
Ideal for children

CLOTHING:
No particular clothing required.

TRANSPORTATION:
This program and its rates do not include transportation to the meeting point and are set on a self-driving base. For further information see the box "transportation options".
Transportation options
Organize your perfect vacation with us!
Booking office opening hours:
Monday through Friday 9am-6pm
Contact us