Treasures of Pisa half-day walking tour and leaning tower, with aperitif
Availability: Mondays , Tuesdays , Wednesdays , Thursdays , Fridays , Saturdays , Sundays
Duration: 3 hours
Rates
THEY ALL GO TO THE TOWER AND MISS ALL THIS?
Pisa is a worldwide famous town due to its bell tower called the Leaning tower, symbolizing Italy on its whole.
The rest of the town is a fantastic example of medieval and Renaissance art but if you visit it on your own it can be difficult to reach all beauties that the town can offer due to a peculiar urban structure that make it unrevealed to the most.
Pisa is a beatiful fascinating town where you can still feel the glory of the ancient Maritime Republic, and a stroll in the medieval little lanes will take you back to the Middle Ages.
If you want to get to know all the historical and artistic treasures that hide behind the leaning tower in Pisa, here is the best tour for you!
Our licensed Pisa city guide arranges fantastic routes and shows you to all other attractions in town in a very pleasant walk that includes stops in breathtaking corners where the Pisans live.
The tour starts at the Miracles' Square, where your guide shows you the sumptuous white marble monuments that stand together with the Leaning tower, like marvellous cathedral, the baptistry (the largest one in the world) and the cemetery. You'll visit the interior of the majestic Cathedral and discover its art mastepieces and its amazing history.
Then we move out of the tourist crowd to discover other fascinating attractions like Piazza dei Cavalieri and Piazza delle Vettovaglie, up to the unique Lungarno river banks.
Finally, the tour ends with a refreshing drink or an Italian aperitivo in the center of the town, where the locals usually go.
Our guide will be very happy to personalize the route of your tour according to your main interests.
What you taste
This is a list of specialties that you are likely to sample as part of the program of this tour. Please, note that the specialties of the tasting session and/or lunch may vary according to the season and the availability of the products in the day of the tour.
Whom you meet
In our tour we like showing you places off the beaten track and introducing you to Tuscan people with their personal stories, careers and characters.
You will have one of our guides with your party during the whole tour. Please, see below all the guides who can be with you.
During this experience you can also meet some of the Tuscan friends involved in the events. Please, see below which friends you are likely to encounter.
Rates
Rates Table
The total rate for this activity varies according to the number of people in your party.
Check rates in the table below.
 PISA HALF-DAY GUIDED SIGHTSEEING TOUR,
with Italian aperitivo – 3 hours

– RATES 2022 –

NUMBER OF PEOPLE IN YOUR PARTY

TOTAL RATE

2 persons

€ 250

3 persons

€ 265

4 persons

€ 280

5 persons

€ 295

6 persons

€ 310

7 persons

€ 325

8 persons

€ 340

9 persons

€ 355

Extra Adult

€ 15

Extra Teenager (12-17 yrs)

€ 15

Extra Child (4-11 yrs)

€ 15

Entrance to the Leaning Tower

€ 25 per person (children under 9 not allowed)
Rates include
A private English speaking official Pisa guide for the whole tour
An Italian aperitif in a in a charming local café in town
Ticket to the Cathedral
Rates do NOT include
Tickets to access the Leaning Tower: € 25 per person (to be requested and booked in advance)
Entrance to other museum or monument in town
Transportation
Transportation is not included in the rates above. For more info on transportation, please see the box "Transportation options".
Children under 9 years of age are not allowed onto the Leaning Tower
Testimonials from our guests
Here the message of appreciation of Antony and Jeannene, who visited Tuscany in November 2017 and enjoyed our tours so much:
Dear Arianna,
We just wanted to tell you how much we enjoyed our visit to Italy. That was due in large part to the tours we booked with you and the wonderful guides that accompanied us. It can be difficult when traveling internationally, and not speaking the language, to find the best way to experience the country you are visiting. We are very happy that we found Arianna and Friends.
The three guides that took us on our three different journeys were outstanding. They were knowledgeable, engaging, and most importantly, they were all very passionate about their craft. Moira enchanted us in Pisa, paced the tour to accommodate my mobility issues, rekindled those old art history memories from our college days with her extensive historical expertise, and shared some nice quiet conversation while we all enjoyed our aperitif.
Massimo overcame the surprise of the olive oil mill machinery not running that day by painting us such a vivid picture of the process by using his own family experiences. It was like we were right there with him and his father. Massimo's tutorial during the tasting was exceptional. On the way home we passed through Lajatico and the Teatro del Silenzio, with its magnificent panoramas, an extra treat.
Valentina, stepping in for Laura, who was ill, (we hope she is feeling better) made our day in Florence very special. With so much to see and do, Valentina expertly maneuvered us through the Uffizzi, L'Accademia, Il Duomo, and the streets and piazzas making sure we saw everything we wanted to see. It was not unusual for other people to quietly gather around us to try and listen to her speaking about all of the wonderful art we were viewing.
All of our guides went above and beyond to make sure our experience was perfect, but what touched us the most was their genuine warmth and goodwill. They are all wonderful old souls and made us feel right at home.
Thank you so much for a magical experience. We know we will return to Tuscany someday and look forward to sharing some time with you again.
Attached are 3 photos we wanted to share with you. Enjoy.
Best Regards,
Anthony and Jeannene
Here the comment on our guided tour with Moira to Pisa and to Lari with a stop at the butcher's shop:
Hi Moira,
Thank you so much for sharing your knowledge about Tuscany's art, architecture, and history with us. We had a wonderful time touring Tuscany with you, and feel that we were very fortunate to have you as our guide.  The photos turned out pretty good and we hope you can use them.  We hope to see you again when we return to Italy.
Kind regards,
Tim and Joan
This is a message we received from Juby after meeting our experienced guide Moira for a private walking tour of Pisa:
Dear Moira
Just finished our trip. I can't wait to say thank you so much for your service today. My friend didn't join us yet you still provide me a big new van. We do enjoy the spacious ride. Not to mention the driver Diego. He is polite, helpful and professional. All these have make our trip a wonderful journey in Italy. Really really appreciate!
Sincerely
Juby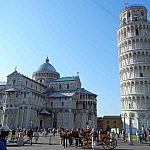 Here is the message of thankfulness of Glenn who enjoyed a guided day tour to the hidden treasures of Pisa:
Dear Moira,
Camille and I want to thank you again for the informative time that you spent with us yesterday. You showed us parts of Pisa that we would have missed if we had visited Pisa alone, and your knowledge of the history and current issues were especially interesting to us!
Finally, the time that you took in providing instructions to Borgo Alle Vigne really saved us! My GPS did not gain satellite recognition, so we had to rely entirely on your detailed driving instructions. They saved us! Our maps did not have enough details of the area.
Best wishes and Happy Easter!
Glenn
This is an email we received on from Enn & Rita:
Hello Massimo,
first of all, we would like to thank you for interesting evening, we really enjoyed it. (..)
we were very satisfied with our visit to Tuscany and we might travel again next year.
I send you some photos from our visit and it's no problem for us, if you would like to post them on your website.
(..) Thank you again and also please forward our regards to Arianna.
Enn & Rita (Esthonia)
This is an email we received on 26th November 2015
Our tour of Pisa with Moira Today Nov. 26
We had our tour of Pisa with Moira and we enjoyed it very much. She was very professional and knowledgeable. She was veryaccomodating and helpful. She conducted our tour at our own pace and was not hurrying us up. She also answered all questions and I would say that her performance was over and above expectations.
Best regards,
Peter and Millie
Info & Details
LOCATION OF TOUR:
This walking tour takes place in the city of Pisa. The meeting point can be reached by public transport.

MEET-UP LOCATION:
Unless differently specified, the meeting point with the guide is in Pisa downtown. Detailled instructions will be provided.

DURATION:
This program takes 3 hours. Time for reaching the meeting point not included.

AVAILABILITY:
Available all the year through, from Mondays through Saturdays.

LANGUAGE:
This tour is available in English, French or Italian with no surcharge. For German, Russian or Spanish a surcharge applies.

DIFFICULTY LEVEL:
Easy

CHILD FRIENDLY:
Ideal for children

CLOTHING:
No particular clothing required.

FOOD RESTRICTIONS:
The foods served during this tour might contain gluten, lactose, nuts and alcohol. If you have any food restriction, please inform our guide at the beginning of the tour.

TRANSPORTATION:
This program and its rates do not include transportation to the meeting point and are set on a self-driving base. For further information see the box "transportation options".

Transportation options
The destinations reached during this activity are in the town of Pisaa, an area that can be reached by private and public transport. It is possible to reach Pisa by public bus service and by train.
Yet, the public service is not well diffused in all Tuscany so we highly recommend renting a car or a scooter in order to reach the meeting point.
As an alternative, we can offer a valued service by chauffeured car, van or minibus. Any cost of transportation is to be added to the rates displayed on the rate table of this page.
Organize your perfect vacation with us!
Working hours:
Monday through Friday 9am-6pm
Contact us