Organic cheese farm tour in Tuscany
Availability: Mondays , Tuesdays , Wednesdays , Thursdays , Fridays , Saturdays
Duration: 3 hours
Rates
FROM THE STABLE TO THE TABLE
Private guided tasting tour with visit to a dairy producing organic pecorino cheese in the Tuscan countryside. Where does the name "pecorino" come from? How and when is it made? Is ricotta produced in Tuscany too? There are many questions regarding the cheese-making tradition in Tuscany and you can get the answers to all of them while visiting a spectacular organic farm on a hilltop, close to the Etruscan town Volterra, during your holiday in Italy.
A panoramic organic cheese farm in the Tuscan countryside
Our guide meets you at an agreed meeting point by Volterra and accompanies you to the farm for a 3-hour tour dedicated to the most delicious cheese of central Italy. The company is a fully organic farm producing not only cheese but also cereal, honey and extra virgin olive oil.
Our guided visit starts with a short introduction about the history of the company, the first one turning to organic farming in the whole area back in the early 90s. Then we explore the workroom during the production of cheese: the processing may vary according to the season, from milk curdling, to cheese salting or cheese rinsing. You will experience all the stages of the pecorino making process and learn the techniques for an organic production.
The farm is very authentic and hosts many animals: you will also visit the barn where the sheep live and learn how the milking facility works. During the visit you will also meet several piglets along with Orazio, a very nice donkey who acts like a pet. The encounter with all these animals make this tour ideal for groups and families with children.

A delicious cheese-based lunch
In the end you will enjoy a genuine buffet lunch by tasting different kinds of pecorino cheese, caciottas together with local hams, different kinds of salami (all of them deriving from the pigs of the farm), home-made honey, ricotta and wine.
What you taste
This is a list of specialties that you are likely to sample as part of the program of this tour. Please, note that the specialties of the tasting session and/or lunch may vary according to the season and the availability of the products in the day of the tour.
Whom you meet
In our tour we like showing you places off the beaten track and introducing you to Tuscan people with their personal stories, careers and characters.
You will have one of our guides with your party during the whole tour. Please, see below all the guides who can be with you.
During this experience you can also meet some of the Tuscan friends involved in the events. Please, see below which friends you are likely to encounter.
Rates
Rates Table
The total rate for this activity varies according to the number of people in your party.
Check rates in the table below.
PRIVATE GUIDED TOUR TO A PECORINO CHEESE FARM with lunch

– RATES 2019 –

NUMBER OF PEOPLE IN YOUR PARTY

TOTAL RATE

2 persons
€ 240
3 persons
€ 275
4 persons
€ 310
5 persons
€ 345
6 persons
€ 380
7 persons
€ 415
8 persons
€ 450
9 persons
€ 485
Extra Adult
€ 35
Extra Teenager (12-17 yrs)
€ 30
Extra Child (4-11 yrs)
€ 25
Rates include
A tour leader for the whole tour
A visit to the dairy and the farm
A visit to the milking facility and the sheep shed
A cheese and salami based buffet lunch
Tax
Rates do NOT include
Transportation is not included in the rates above. For more info on transportation, please see the box "Transportation options".
Testimonials from our guests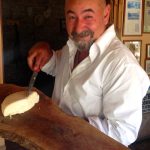 Here the message of a young couple from Amsterdam who enjoyed a very detailed cheese tour with Massimo while planning on opening a dairy farm themeselves:
Dear Arianna and Massimo,
We wanted to thank you for the great cheese tour you offered last Friday.
I have to say the information and hospitality we received was above our expectation and it definitely was worth it.
(I got my colanders too from the farm btw)
We really enjoyed it and as I promised Massimo here I added my private email address.. will keep him posted in the future about our own 'Sheep and cheese experiences' J
Kind Regards,
Melanie & Togay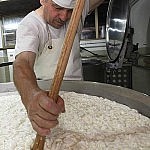 Here is a message our guest Nina from Miami USA left our our yelp page:
We stayed at the Hilton Club at Borgo Alle Vigne. This unique location is set in a small village with breath taking views and spacious modern conveniences. We had a 2 story villa, 2 bedrooms each with its own full bathroom, a living room with a pull out couch if needed, dining room and full kitchen stocked with utensils you need if you enjoy cooking. I could easily live in our suite! If it were a warmer time of year we would have breakfast on our patio overlooking the valley and lush hills. The free wifi worked fine the entire time we were there.
Everyone on staff at the resort truly seems to love being here. They are always genuinely cheerful and helpful. They are extremely knowledgeable about the surrounding cities, how to best plan your visits and recommend the best way of getting there. Really they even drove the route to Pontedera (free parking lot for the train station to Florence) and took photos at the turning points with a description to keep everyone on track.
And then there is Arianna & Friends, a tour company of local articulate warm and joyful guides. I can't say enough about our experiences on the tours we took with them. First we had a cooking class with 9 other people which was so much fun. We made pasta from scratch all of us getting to knead the dough, roll it out and cut it to size. It culminated in a 4 course feast of all the things we cooked. Getting to know our fellow travelers as well as Massimo our lead teacher was a highlight of the night. info@ariannandfriends.com is the way to contact them.
Then Luca was with us for part of the next two days. We visited a sheep farm and cheese making facility all family owned. The lunch they prepared at their restaurant for us included a cheese tasting and was one of the best meals we had in Italy. Luca was also full of great information about the area and how the agriculture and villages worked together. Then off to an olive oil press and tasting followed by a wine production facility and tour of the family vineyard. The lunch at the vineyard was in a room of all windows overlooking the rolling hills. It was spectacular.
Massimo and Luca's enthusiasm was contagious. Even if you are a seasoned traveler and are totally capable of being independent, don't miss the opportunity to meet Massimo, Luca and their team. They will give you a glimpse of Tuscan living more authentic and deep then you could possibly do on your own.
This message was posted on our yelp page
This is an email we received from Barbara, who took our half-day tour including a visit to an organic cheese farm and an oil mill
Hi Arianna,
Jay and I just wanted to thank you so much for arranging our tour with Massimo. We had a great time and thought that Massimo was a fantastic and very informative guide!. The Olive Mill and Cheese tour was wonderful. We really enjoyed it.
All the best –
Barbara
This is an email we received from Karin, spending one day with us at the organic cheese farm:
Hi Arianna,
Hope the sun is shining in Tuscany, and that you are fine!
We all have had a nice program at the farm.
Again I would like to thank you for your kind welcome.
And the lunch with the beautiful table presenting all the delicious
cheese, I liked very much. (long tables, nice people and nice food!!!!)
Whatmore do we need?
So, I hope you are able to send me the recipy of the "spelt" salade.
I hope you like the foto which I have attached.
Here in Holland, the weather is nice and we are enjoying spring-
time. Although I always want to go to Italy.
Next time, when we are in the neighbourhood, I let will you know.
with kind regards,
Karin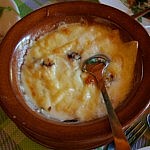 This is an email we received from Jacob, staying in Tuscany with his girl and visiting the cheese farm with us:
Arianna,
I wanted to pass on a thanks for everything that was put together. We had an excellent time. I've already passed along the info about you to some others who were considering visiting Italy within the next year or so. In addition, I've included some of the pics that I took while I was down there. You're welcome to use them however you like. Once again, thanks.
Jacob (USA)
Info & Details
LOCATION OF ATTRACTIONS:
This tour takes place in the rural area near Volterra, in central Tuscany.

MEET-UP LOCATION:
Unless differently specified, the tour guide meets you at a meeting point near Volterra.

DURATION:
This program takes 3 hours. Time for transportation not included.

AVAILABILITY:
Available all the year through, from Mondays through Saturdays.

LANGUAGE:
This tour is available in English, German, French, Spanish, Russian or Italian with no surcharge.

DIFFICULTY LEVEL:
Easy

CHILD FRIENDLY:
Ideal for children

CLOTHING:
No particular clothing required.

FOOD RESTRICTIONS:
The foods served during this tour might contain gluten, lactose, nuts and alcohol. If you have any food restriction, please inform our personnel during the enquiry process.

TRANSPORTATION:
This program and its rates do not include transportation and are set on a self-driving base. For further information see the box "transportation options".
Transportation options
The destinations reached during this activity are in the Tuscan countryside, in areas off the beaten track that cannot be reached by public transport. We highly recommend renting a car or a scooter in order to reach them. As an alternative, we can offer a valued service by chauffeured car, van or minibus. Any cost of transportation is to be added to the rates displayed on the rate table of this page.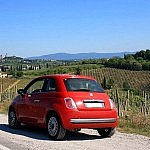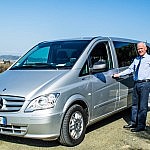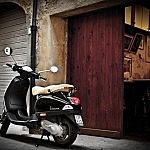 Organize your perfect vacation with us!
Booking office opening hours:
Monday through Friday 9am-6pm
Contact us