Pasta factory, castle & prosciutto tour
Availability: Mondays , Tuesdays , Thursdays , Fridays , Saturdays
Duration: 3 hours
Rates
A MEDIEVAL VILLAGE WITH ALL THIS?
Even if it is not famous on a large scale, the handcrafted production of pasta is something Tuscany can be proud of. It is possible to learn about it while visiting a small village near Pisa. Arianna & Friends organizes half day tours to a renowned artisan pasta factory just opposite a historical castle and very near to a fantastic butcher's shop!
An artisanal pasta factory
Our guide meets you at an agreed meeting point near Lari and takes you to a small family-run pasta factory that exports its production to all the world. During the visit the guide informs you on the traditional methods of production and on the very original conditions in which this family works. You will understand why this pasta is so amazing and also why the Italians love it so much.
A panoramic medieval castle
The factory is located in a small medieval village called Lari, where you will also explore a perfectly preserved medieval castle, the Castle of the Vicars, dating back to the XIV century with its gloomy dungeons. The castle is very fascinating not only for its history of many centuries but also for its extremely panoramic location in the center of Tuscany. Lari is particularly scenic since the view covers the whole lower Arno valley, with a unique sight over Pisa.
A butcher's shop
One of the most beautiful aspects of a small village in Tuscany is the presence of many boutique shops. You have the opportunity to see the most representative one in Lari: the butcher's. We meet the butcher and see his cellars where prosciutto and salamis are ageing and we sample a few cold meats available for sale.
At the very end of the tour to Lari you are invited to taste a local cherry liquor, typical produce of the small village, at one historical bar in town.
If you want to immediately sample the pasta created in Lari by the Martellis, it is possible for you to book a full lunch at a local restaurant in town.
What you taste
This is a list of specialties that you are likely to sample as part of the program of this tour. Please, note that the specialties of the tasting session and/or lunch may vary according to the season and the availability of the products in the day of the tour.
Whom you meet
In our tour we like showing you places off the beaten track and introducing you to Tuscan people with their personal stories, careers and characters.
You will have one of our guides with your party during the whole tour. Please, see below all the guides who can be with you.
During this experience you can also meet some of the Tuscan friends involved in the events. Please, see below which friends you are likely to encounter.
Rates
Rates Table
The total rate for this activity varies according to the number of people in your party.
Check rates in the table below.
PRIVATE TOUR TO PASTA FACTORY, MEDIEVAL CASTLE
and butcher's shop IN LARI – G1

with samplings at the local butcher's and at the local bar

– RATES 2019 –

NUMBER OF PEOPLE IN YOUR PARTY

TOTAL RATE

2 persons
€ 210
3 persons
€ 230
4 persons
€ 250
5 persons
€ 270
6 persons
€ 290
7 persons
€ 310
8 persons
€ 330
9 persons
€ 350
Extra Adult
€ 20
Extra Teenager (12-17 yrs)
€ 15
Extra Child (4-11 yrs)
€ 15
PRIVATE TOUR TO PASTA FACTORY, MEDIEVAL CASTLE
AND BUTCHER'S SHOP IN LARI – G2

WITH lunch of pasta and cold meats at a local restaurant

– RATES 2019 –

NUMBER OF PEOPLE IN YOUR PARTY

TOTAL RATE

2 persons
€ 290
3 persons
€ 335
4 persons
€ 380
5 persons
€ 425
6 persons
€ 470
7 persons
€ 515
8 persons
€ 560
9 persons
€ 605
Extra Adult
€ 45
Extra Teenager (12-17 yrs)
€ 35
Extra Child (4-11 yrs)
€ 30
Rates include
A tour leader for the whole tour
A visit to the Castle for about 1 hour
A visit to the pasta factory fof about 1 hour
A visit to a butcher's shop with little samplings of cold meats
A tasting of cherry liquor at a local bar
Tax
Rates do NOT include
Transportation is not included in the rates above. For more info on transportation, please see the box "Transportation options".
Testimonials from our guests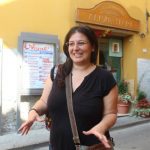 This is an email we received from Misty, who brought her all family to Tuscany for a day trip food trip to Lari.
Dearest Arianna,
Our day with you on Saturday was unanimously the best part of our three week trip to Europe. We had not planned to return to Italy because there is just so much more in the world to see but you've have changed our mind.
You talked with us like we were friends catching up about everything from religion, to politics, to history and academics. You helped us fall in love with Tuscany and see it through the eyes of locals. You didn't just translate the words and explain the processes; you conveyed the passion, the hardships and the joys of everyone we came in contact with. We truly appreciate you accommodating us in so many ways. I don't only hope to return to Tuscany, but I hope to have more time with Arianna and Friends.
We sincerely hope that one day you will come to visit with us and this is not a token offer. Our door is always open. We think you have found a recipe for success and wish you a long and prosperous business journey so that you can touch the hearts of many more.
Please friend me on Facebook and ciao, until next time,
—
Misty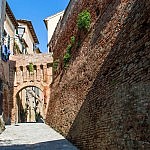 This is a message we received from a Canadian family who joined us for the tour of Lari while staying in Tuscany
Hi Consuelo,
I just want to thank all of you on behalf of our whole group!  The tour was AMAZING and we enjoyed it so much!  Massimo was a great guide and had so much good info on all the places we visited.  Everyone was so kind and generous, we could not have had a better time!  I live here in Italy and will for sure be returning in the future next time I have visitors.  Exceptional service!
Thank you!
Kelly, Erin, Misty and Christy 🙂
This is a message of appreciation we received from Laura Anne who strived to see some pasta being produced in Italy:
Arianna,
Sorry I missed this email, but we were already in Italy!
Thank you again so much for the tour. It was absolutely lovely.
Everyone really had a great time.
I completely envy your job!
Let me know if you need anything!
Thanks,
Laura Anne S. 🙂
Info & Details
LOCATION OF ATTRACTIONS:
This tour takes place in Lari, a small village just 30 minutes from Pisa and 1 hour from Florence.

MEET-UP LOCATION:
Unless differently specified, the tour guide meets you at a meeting point in or near Lari.

DURATION:
This program takes 2,5 hours. Time for transportation not included.

AVAILABILITY:
Available on Mondays, Tuesdays, Thursdays, Fridays and Saturdays (on Saturday only in the morning).

LANGUAGE:
This tour is available in English language. German, French, Spanish, Russian or Italian are also available with no surcharge.

DIFFICULTY LEVEL:
Easy

CHILD FRIENDLY:
Ideal for children

CLOTHING:
No particular clothing required.

FOOD RESTRICTIONS:
The program of this tour includes a sip of a local liquor and samplings of cold meats at the butcher's. If you have any food restriction, please inform our personnel during the enquiry process.

TRANSPORTATION:
This program and its rates do not include transportation and are set on a self-driving base. For further information see the box "transportation options".
Transportation options
The destinations reached during this activity are in the Tuscan countryside, in areas off the beaten track that cannot be reached by public transport. We highly recommend renting a car or a scooter in order to reach them. As an alternative, we can offer a valued service by chauffeured car, van or minibus. Any cost of transportation is to be added to the rates displayed on the rate table of this page.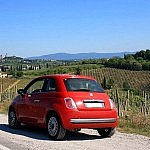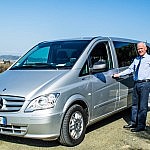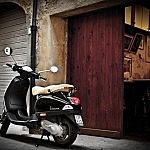 Organize your perfect vacation with us!
Booking office opening hours:
Monday through Friday 9am-6pm
Contact us