Visit to Cinque Terre with expert local guide
Availability: Mondays , Tuesdays , Wednesdays , Thursdays , Fridays , Saturdays , Sundays
Duration: 8 hours
Rates
Would you like other passengers of your cruise to join you for this tour?
If the number of participants increases the cost per person reduces much!
POST INFORMATION ON THIS TOUR ON YOUR PASSENGERS BOARD – COPY THIS LINK
https://www.ariannandfriends.com/shore-excursions/cinque-terre-shore-excrursion
THE ESSENCE OF COASTAL BEAUTY
Arianna & Friends organizes a fantastic tour to Cinque Terre, the most romantic locations of the coast of Nothern Italy, about 1 hour from Livorno, enlisted in the UNESCO world heritage.
Details of our shore excursion:
– Private transfer by minivan (up to 8 passengers) or minibus (9 passengers or more) from the port of Livorno. In case of minivan our driver meets you directly at the ship in the morning and drives you for the whole day. In case of minibus our driver meets you at a bus parking area near the ship that you will reach by a fast free shuttle service organized by the port. On the way back the mininus will drop you off directly by the ship.
– We drive for just over 1 hour to Riomaggiore, the first of the 5 picturesque fishermen villages Cinque Terre on the cliffs of the Riviera Ligure. Here you meet our great local guide Umberto! With the guidance of Umberto you will visit the first little village and plan the visit to the other destinations.
–  According to how fit you feel, you can visit some of the other villages through the trekking trails that connect one with the other (for trekking trails a supply of € 7.50 per person for the Cinque Terre card applies). Alternatively, you can reach the villages on our minivan or minibus.
– In one of the villages the guide will give you one hour for lunch (not included in the program).
– Umberto will make sure that you see all the most beautiful destinations and views of the whole Cinque Terre park. A gelato or a cappuccino or espresso is included in the program.
– Return within the early evening, depending on the docking time of the cruiseship.
What you taste
This is a list of specialties that you are likely to sample as part of the program of this tour. Please, note that the specialties of the tasting session and/or lunch may vary according to the season and the availability of the products in the day of the tour.
Whom you meet
In our tour we like showing you places off the beaten track and introducing you to Tuscan people with their personal stories, careers and characters. You will have one of our guides with your party during the whole tour. Please, see below all the guides who can be with you. During this experience you can also meet some of the Tuscan friends involved in the events. Please, see below which friends you are likely to encounter.
Rates
Rates Table
The total rate for this activity varies according to the number of people in your party.
Check rates in the table below.
SHORE EXCURSION FROM LIVORNO PORT

 Visit to Cinque Terre and Portovenere

– RATES 2019 –

NUMBER OF PEOPLE IN YOUR PARTY

TOTAL RATE

2 persons
€ 890
3 persons
€ 910
4 persons
€ 930
5 persons
€ 950
6 persons
€ 970
7 persons
€ 990
Rates include
Full-day transfer service by luxury car (for parties of 2 people) or minivan (for parties of 3 and up to 7 people);
English speaking tour guide at the destinations. Surcharges may apply for other languages;
A gelato or cappuccino or espresso at a local bar;
Tax, transfer insurance and fees for harbour access;
ARIANNA & FRIENDS IS COMMITTED TO EMPLOY OFFICIAL AND LICENSED DRIVERS ON BOARD LEGALLY INSURED VANS AND BUSES ONLY FOR ITS TOURS.
Rates do NOT include
Lunch at a local restaurant
Cinque Terre card: € 7.50 per person to access trekking trails
Boat rides
Info & Details
LOCATION OF ATTRACTIONS:
This tour takes place in the coastal area of Cinque Terre, between Livorno and Genua.

MEET-UP LOCATION:
Unless differently specified, our driver meets you at your ship in the harbor of Livorno. If your ship is docking in other harbors of Tuscany like La Spezia or Piombino, different rates and time schedules apply.

DURATION:
This program takes 8 hours. Time for transportation included.

AVAILABILITY:
Available any day of the week, all year through. This offer is for max 7 people.

LANGUAGE:
This tour is available in English or Italian with no surcharge.

DIFFICULTY LEVEL:
Medium difficulty

CHILD FRIENDLY:
Ideal for children

CLOTHING:
No particular clothing required. Comfortable shoes as part of the tour requires walking.

FOOD RESTRICTIONS:
The foods served during this tour might contain gluten, lactose, nuts and alcohol. If you have any food restriction, please inform our personnel during the enquiry process.

TRANSPORTATION:
This program and its rates include full-day transportation on board luxury cars (for 2 passengers) or minivans (from 3 to 7 passengers)). All drivers are fully licensed and allowed to enter the harbor of Livorno. All our cars, vans and buses are fully licensed and insured for transporting visitors.
Transportation options
The destinations reached during this activity are in the Tuscan countryside, in areas off the beaten track that cannot be reached by public transport. As a consequence, a full-day driving service on board luxury cars, minivans or minibuses is included in this program.
ARIANNA & FRIENDS IS COMMITTED TO EMPLOY OFFICIAL AND LICENSED DRIVERS ON BOARD LEGALLY INSURED VANS AND BUSES ONLY FOR ITS TOURS.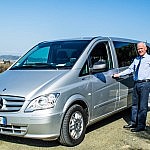 Organize your perfect vacation with us!
Booking office opening hours:
Monday through Friday 9am-6pm
Contact us