Vespa & Food tour in Tuscany
Availability: Mondays , Tuesdays , Wednesdays , Thursdays , Fridays , Saturdays
Duration: 6 hours
Rates
VESPA TOUR FOR FOODIES!
Join your bent for freedom and adventure with your passion for the best Italian food!
This is the perfect tour for visitors of Tuscany who want to admire its spectacular landscapes at an ideal pace while riding a Vespa scooter and who are willing to taste as much as possible of its local specialties!
A spectacular countryside spotted with little villages and food producers
The best way to enjoy Tuscany!
Arianna & Friends arranges a full-day Vespa tour with a local guide with focus on food specialties in the area of the Vespa Museum near Pisa and Volterra – the visit to the museum is not included in this program.
OUTLINE OF TOUR, ROUTE & FOOD:
– Day Vespa rental  for 6 hours starting from the village of La Rosa, 16 kms from Pontedera.
– A fantastic, panoramic and safe route across the rural Tuscany in the area of the Pisan hills, a region very famous for its excellent wines, extra virgin olive oil, salamis as well as picturesque medieval castles and enchanting villages.
– A private English speaking Vespa tour guide accompanying you for the whole trip. The guide shows you the villages and the attractions along the route with a particular focus on the landscapes, the local traditions and the historical and agricultural framework of the territory.
– A short visit to the medieval hamlet of Lari with guided visit to a famous small artisanal pasta factory. Stop at a local butcher's shop in town and sampling of cold meats. Possibility to visit a charming medieval castle, with a little surcharge.
– A stop at a typical oil mill, belonging to a farm of cinta senese piglets that produces organic salami and cold cuts. Here is where a guided sampling of extra virgin olive oils is arranged, with a detailled explanation of the sampling techniques. The sampling of oils is accompanied by a little snack with foods produced by the farm. Here it is possible to order a full lunch with a surcharge (see rate table below). Lunch includes an appetizer with a rich plate of mixed cold meats, bread, bruschetta with pates and a pasta dish with the pasta (from the factory visited before) and locally made meat sauce.
– A stop at the spectacular Teatro del Silenzio, in Lajatico, the birthplace of Andrea Bocelli. This is the very scenic open air arena where the worldwide famous artist arranges a yearly concert that attracts thousands of people every year.
– Other short stops along the route for taking pictures or stretching legs and a stop at a bar for coffee and little cookies.
– Helms provided
– Insurance included*
– Availability of maximum 6 Vespas, for up to 12 people.
* Please, note that the insurance refers to liability against third parties. The regular insurance does not cover the vespa riders themselves and their own vespa.
       

SAFETY WARNING!     PLEASE, READ CAREFULLY
THIS TOUR IS FOR EXPERIENCED RIDERS ONLY
This tour is meant for riders with consolidated experience at riding scooters or motorbikes
It is not possible to learn how to ride a vespa scooter just before and during the tour
Previous experience of all riders is a necessary pre-requisite to book this tour
A RIDING TEST BEFORE DEPATURE TO PASS 
For the safety of the participants to the tour, a short practice of 10 minutes including a small riding test is required
Riders will have to demonstrate they are able to easily accomplish 8-shaped rotations around pins and to brake in a limited space
In case the riding test is failed, the vespa cannot be rented and the rider is not entitled to a refund
DISCLAIMER FOR THE GUIDE & DECLARATION OF RIDING EXPERIENCE
The vespa tour guide provides any safety instruction during the tour
The guide is by no means responsible for the vespa riding itself
All riders assume any risk for themselves and the passengers deriving from this activity
Together with a vespa rental contract, each rider is obliged to sign our disclaimer & declaration of riding experience
What you taste
This is a list of specialties that you are likely to sample as part of the program of this tour. Please, note that the specialties of the tasting session and/or lunch may vary according to the season and the availability of the products in the day of the tour.
Whom you meet
In our tour we like showing you places off the beaten track and introducing you to Tuscan people with their personal stories, careers and characters.
You will have one of our guides with your party during the whole tour. Please, see below all the guides who can be with you.
During this experience you can also meet some of the Tuscan friends involved in the events. Please, see below which friends you are likely to encounter.
Rates
Rates Table
The total rate for this activity varies according to the number of people in your party.
Check rates in the table below.
VESPA & FOOD TOUR IN TUSCANY

– RATES 2022 –

NUMBER OF PEOPLE IN YOUR PARTY

TOTAL RATE

2 persons (on 1 vespa)
€ 400
3 persons (on 2 vespas)
€ 510
4 persons (on 2 vespas)
€ 530
5 persons (on 3 vespas)
€ 640
6 persons (on 3 vespas)
€ 660
Fuel
€ 10 per vespa – to be paid cash on site

EXTRAS

Extra vespa
€ 90 per vespa
Extra person on a Vespa + snacks
€ 105 per person
Light lunch
€ 20 per person
Rates include
Vespa rental for a full-day – Rates refer to 1 vespa for 2 passengers
Helm and insurance*
Private tour guide for the whole tour
Guided sampling of extra virgin olive oils and little snacks at the oil mill
Visit to an artisanal pasta factory and quick stop at a butcher with samplings of cold meats
Visit to Teatro del Silenzio in Lajatico
Stop for coffee and little cookies at a bar or a pastry shop
* Please, note that the insurance refers to liability against third parties. This kind of insurance does not cover the vespa riders themselves and their rental vespa.
Rates do NOT include
Fuel: € 10 per Vespa – To be paid cash on site.
Light lunch: € 20 per person – To be paid cash on site.
Extra Vespas – in case each guests would like to ride one scooter: € 90 per vespa
Guided visit to a medieval castle: € 5 per person;
Transportation to our premises in Peccioli.
Testimonials from our guests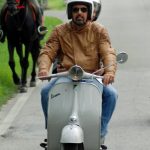 Here a nice message from Sarah, who visited Tuscany in June 2019 and had a tour with Massimo in the mountains of Lucca:
Dear Massimo,
I just wanted to let you know what an amazing trip we had with you this year, the riding was out of this world we really cant stop talking about it.
It just makes us want to come back again and again. The countryside is stunning but the knowledge that you bring to the trips just makes them all the better. We really enjoyed having Andreas and your friends with us what really lovely people.
On that note we are planning on coming back next year. I know its early to plan but we would like to get started. We are thinking about the Sienna trip. Could you let me know what the best airport to go to is and which area should we stay in? Would this area be good for riding and are you still able to bring the scooters that far?
Are you free the weekends the 19th or 26th June as a couple of options?
Thank you so much I look forward to hearing from you.
Sarah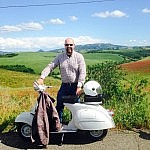 This is an email we received from Karen after a day tour she enjoyed with Massimo:
Dear Massimo and Arianna,
I just wanted to thank you so much for the wonderful Vespa tour of Tuscany. My husband, sister and I had the pleasure of this experience on Sunday, September 14th. Massimo, you were a fantastic tour guide! We loved our day in the Tuscan countryside, visiting all of the wonderful places. I am now very picky about my olive oil! This tour was definitely a highlight of our trip to Italy and I highly recommend it to anyone who would like a one-of-a-kind experience!
Warm Regards,
Karen
This is an email we received from Sandi, who booked a full day Vespa & Food tour with Massimo:
Happy Friday to you!!
I was wondering if you had some pictures for us that you can send us (one that people would love is when we were in front of the truffle place) and anything else would be great!
Hope all is going well for all of you! Sure do miss the beautiful countryside of Italy….
We have entered fall here, which means snow is just around the corner for us. (sad face)
Thanks again for the trip of a lifetime! I have shared your website to many people and when they are ready to take the best vacation ever in Italy, they will contact you!!!
Sandi
This is an email we received from Peter and Samantha, who booked a day excursion on Vespa scooter throughout Tuscany on their cruiseship stop at Livorno port:
Arianna,
I wanted to thank you again for the wonderful experience my wife and I had in Tuscany last October. The tour you and your fantastic staff arranged for us during our brief stay in tuscany was memorable and unforgettable.
We were picked up and driven to Pontadera (Home of Vespa) for a tour of the Vespa Museum and then jumped on our vespa to tour the countryside of Tuscany on our own (with a little help from your laminated directions).
I want you to know that that day was the absolute highlight of our entire Mediteranean cruise and one day which will be with us both forever.
I look forward to our next visit to your beautiful part of the world and I guarentee that I will be in contact with you and your staff as soon as arrangements are made to travel.
I will not hesitate to recommend you and your tours to all of my friends and work collegues as it was a wonderful experience for us both.
Regards and best wishes,
Peter and Samantha
Sydney
Australia
Info & Details
LOCATION OF TOUR:
This round trip takes place in the municipalities of Peccioli, Lari, Terricciola, Chianni and Lajatico, in a rural area between Pisa and Volterra.

MEET-UP LOCATION:
Unless differently specified, the meeting point with the guide is in Peccioli. Detailled instructions will be provided.

DURATION & LENGTH OF ROUTE:
This program takes 6 hours, from 10 am to 4 pm. Time for reaching the meeting point not included. The route as described in this activity covers approximately 60 kms.

AVAILABILITY:
Available from March through October, from Mondays through Saturdays. On Wednesdays the pasta factory will not be operating.

LANGUAGE:
This tour is available in English, German, French, Spanish, Russian or Italian with no surcharge.

DIFFICULTY LEVEL:
Difficult

VESPA RENTAL:
At the beginning of the tour the guide will help any rider to fulfill the documents necessary in order to rent vespa scooters from a local rental company. The scooters rented for this tour are modern vespa scooters with automatic transmission (no manual gear).

INSURANCE:
The insurance on the scooters is a basic civil liability policy as per legal requirements. This policy only covers damages to third parties and does not cover damages to the rider or the passenger, nor damages to the scooter itself. As a consequence, the rental agreement is valid only when filled in with valid credit card details of the rider, which might cover any damage in the event of an accident.

LICENSE REQUIRED:
Riders must have an international driving license and must be over 18 years of age.

EXPERIENCE ON SCOOTERS IS REQUIRED - THIS TOUR IS NOT FOR BEGINNERS:
Before booking this tour it is essential for you to understand that the tour is addressed to people who have previous experience in riding a scooter, a vespa or a motorbike. If you never rode a scooter it is impossible for you to be able to ride it along the routes that the guide selects. Every tour starts with a 15-20 minute practice that is necessary for the rider to get confident with the scooter, especially in order to understand how brakes and accelerator work. The time for the practice is absolutely not enough to learn how to ride a scooter, for which people might need long hours or even days. So we need to make sure that you are already familiar with riding a 2 wheel vehicle, and the tour will not be your first occasion to ride a scooter. This is a necessary prerequisite for safety reasons and for guaranteeing a pleasant tour to you and the other participants in your party.
If you are not able to ride the scooter properly on the day of the tour, the guide can refuse to give the tour and you are not entitled to a refund.

CHILD FRIENDLY:
Not ideal for children. Children under 10 years are not allowed on vespas.

CLOTHING:
No flip-flops but shoes or closed sandals required. It is advisable to wear trousers and not shorts and depending on the season it is recommended to bring a light jacket or a wind jacket.

FOOD RESTRICTIONS:
The foods served during this tour might contain gluten, lactose, nuts and alcohol. If you have any food restriction, please inform our personnel during the enquiry process.

TRANSPORTATION:
This program and its rates do not include transportation to the meeting point and are set on a self-driving base. For further information see the box "transportation options".
Transportation options
The meeting point where this activity starts is in an area in the rural Tuscany that is not easy to reach by public trasport. We highly recommend renting a car to reach it. As an alternative, we can offer a valued service by chauffeured car, van or minibus. Any cost of transportation is to be added to the rates displayed on the rate table of this page.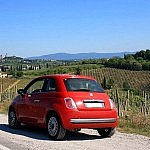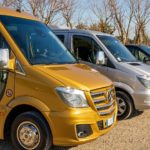 Organize your perfect vacation with us!
Working hours:
Monday through Friday 9am-6pm
Contact us