Pastry making class at the pastry shop
Availability: Tuesdays , Wednesdays , Thursdays , Fridays
Duration: 4.5 hours
Rates
THE PASTRY MAGICIAN IN THE ENCHANTED VILLAGE
The Tuscan pastry tradition has always been rich of delicious cakes. It is very common to taste a variety of them in small traditional pastry shops, often located in charming villages and little towns. Arianna & Friends organize a two-hour pastry class in a traditional and welcoming pastry shop which is also a renowned pizzeria and restaurant in the middle of a small medieval town called Peccioli.
A short visit to a picturesque medieval village
At your arrival our guide meets you at an easy meeting point. As you reach Peccioli, you will enjoy an introductive walk of about 30 minutes throughout the village: a typical medieval hamlet with little lanes, small picturesque squares and breathtaking landscapes over the Tuscan hills and a stunning panoramic rooftop terrace.

A historical pasticceria and a skilled pastry maker
After visiting the village you reach a small and historical pastry workshop where you meet Andrea, the pastry maker. He is just a genious of pastry making and a magician in the way he can create fancyful and delicious things in just seconds! Here you wear your aprons , which will be the souvenir of your experience and you start acting.
The first part of lesson is dedicated to the preparation of cakes and biscuits belonging to the Tuscan tradition like cantuccini or the typical festivity cakes called ricciarelli, cavallucci and panforte; the selection of cakes can be personalized if you want to learn something in particular: for example, a typical summer cake is a semifreddo called zuccotto.
The final part of the lesson is dedicated to the preparation of your favorite pizza, which will be served then as part of your meal. The pastry shop and pizzeria "La Vecchia Carraia" only makes use of very selected local ingredients, including flours, extra virgin olive oil and all the toppings of your pizza.
Finally, all you have prepared will be served in a following lunch or dinner in the small restaurant of the pastry shop together with some local matching wines and with the unique grappa of Colombana vine, a rare vine growing only in a restricted area of the Pisan hills.
Our classes are always arranged for private parties, either in the morning – followed by lunch – or in the afternoon – followed by dinner. Lessons at the pastry shop can be set for small groups of max 8 people.
Before you leave, Andrea will pack your cookies and cakes for you to take away as a souvenir to show your friends!
What you taste
Whom you meet
In our cooking class we like telling you a lot about Tuscan farms and farmers' cooking traditions, introducing you to Tuscan people with their personal stories, careers and characters.
You will have one of our guides as a language assistants and coordinator with you during the whole class. Please, see below all the guides and language assistants who can be with you.
During this experience you will also meet one of our Tuscan cooks who give you the cooking class. Please, see below which cooks you are likely to encounter.
Rates
Rates Table
The total rate for this activity varies according to the number of people in your party.
Check rates in the table below.
HALF-DAY PRIVATE PASTRY MAKING CLASS
IN PECCIOLI

– RATES 2019 –

NUMBER OF PEOPLE IN YOUR PARTY

TOTAL RATE

2 persons
€ 330
3 persons
€ 390
4 persons
€ 450
Extra Adult
€ 60
Extra Teenager (12-17 yrs)
€ 45
Extra Child (4-11 yrs)
€ 30
This cooking class is for private parties of max 6 people
Rates include
A 2.5-hour pastry cooking class
A full dinner or lunch with local pizza, cakes and drinks included
Tasting of several pastry products
A tour leader and language assistant
Personal aprons as souvenirs
A guided walk through Peccioli
Tax
Rates do NOT include
Transportation is not included in the rates above. For more info on transportation, please see the box "Transportation options".
Testimonials from our guests
This is an email we received from Jana and Roddrick on their honeymoon in Tuscany and doing a truffle hunting tour and a pastry class with us:
Massimo,
Here are the pictures we promised! We had the most amazing time on this whole-day tour with you. We thank you for custom-making this tour to fit all the things we wanted to do! It was simply amazing and we had more fun than we knew what to do with! I know we went to bed smiling and talking about it for many days afterwards. Every part of it was memorable, fun and perfect! If we are ever fortunate enough to come back to Italy, we are certainly booking with you guys and spending more time in that region. I have recommended you guys to my friends who are planning their trip to Italy in March. I know you will give them the same spectacular treatment that you did us! Thank you from the bottom of our hearts for making our honeymoon memorable and exciting! Hugs to Massimo and all our Italian friends we met along the way!
Sincerely,
Roddrick & Jana
This is another message after we answered them: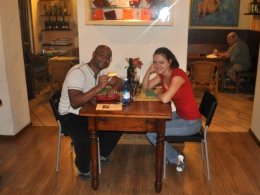 Hey Massimo!
You deserved every word.  🙂  I am glad you got the pictures and can use them to remember us.  We definitely would love to come back to that region again one day and you KNOW we will be calling you!  If you get to come to the US, do not hesitate to call on us!  We'd love to see you and we even have an extra room & bathroom to put you up for the night if you need it.  🙂  We talked to our friends that are coming to Italy next May and they are going to start working on their trip so I gave them your website and all the info so they can figure out what they want.  Hopefully they will take our advice and use you guys!  We talked to Roddrick's dad a bit about the melon liquor and we bought some in Capri to bring back for him to taste.  Of course, it wasn't quite the same as what we had with you, but it gave him an idea of what we were talking about.  He loved the stuff and he said we'd need to sit down and talk about it for sure!  SO I'll keep you informed!  🙂  Thanks for everything and keep in touch!!
Sincerely,
~Jana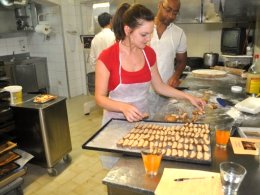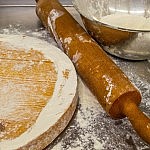 This is an email we received from Sallie and Karen, who spent 10 days in Tuscany in our farm and enjoyed our pastry shop experience, our painting class and our cooking class:
Hi Arianna,
Just a quick note to thank you and the team very much for the incredible job you all did during our recent trip to Tuscany. Special thanks to Massimo and Consuelo for helping solve the GPS problem, the replacement Tom Tom worked extremely well and was a definite "must have" for foreigners trying to navigate their way around Italy. Also, to Massimo and Veronica for joining us and translating during our Cooking and Painting classes, their knowledge and experience, without a doubt, enhanced our experience during each of them.
With regard to the Pastry & Pizza Cooking Class we did with Massimo, he mentioned that copies of each of the recipes will be emailed to us, can I also remind you about that please, as we haven't received them yet?
Thanks again.
Sallie & Karen
Info & Details
LOCATION OF THE COOKING VENUE:
This cooking class takes place in the village of Peccioli, in central Tuscany, among Pisa, San Gimignano and Volterra.

MEET-UP LOCATION:
Unless differently specified, the meeting point with the language assistant is at an easy meeting point near Peccioli. Detailled instructions will be provided.

DURATION:
This program takes 4.5 hours: 2.5 hours for cooking and the rest for dinner/lunch, guided visit to Peccioli and relaxation. Time for transportation not included.

AVAILABILITY:
Available all the year through, from Tuesdays to Fridays in the morning, followed by lunch, or in the afternoon, followed by dinner.

LANGUAGE:
This class is available in English, German, French, Spanish, Russian or Italian with no surcharge.

DIFFICULTY LEVEL:
Easy

CHILD FRIENDLY:
Ideal for children

CLOTHING:
No particular clothing required.

FOOD RESTRICTIONS:
The foods served during this cooking class might contain gluten, lactose, nuts and alcohol. If you have any food restriction, please inform our personnel during the enquiry process.

TRANSPORTATION:
This program and its rates do not include transportation and are set on a self-driving base. For further information see the box "transportation options".
Transportation options
Organize your perfect vacation with us!
Booking office opening hours:
Monday through Friday 9am-6pm
Contact us