Two original wineries near San Miniato
Availability: Mondays , Tuesdays , Wednesdays , Thursdays , Fridays
Duration: 6 hours
Rates
UNBELIEVABLE  YET UNDISCOVERED!
The hills surrounding Florence are a very charming wine district producing fabulous Chianti but also many IGT wines, with original peculiarities, sometimes produced with vines that are rare for Italy. Arianna and Friends brings you to two wineries off the beaten track in the area of San Miniato for you to discover very original and unexpected wines.
A biodynamic and panoramic winery
Our guide meets at an easy meeting point in San Miniato, near the exit from the highway joining Pisa with Florence, and leads you to a scenic winery in a historical property, adorned by two century old stunning villas. The tour starts with a guided visit to the property, a beautiful hill of Sangiovese and Sanforte vines, a large vegetable plot, a stunning park with century-old trees and charming olive groves. The estate is famous in the area for being a pioneer of biodyniamic farming applied to winemaking. After visiting the cellar and the vinsantaia, you will sit in a panoramic tasting room where the best wines of the property will be served along with a delicious lunch of Tuscan specialties.
After lunch, the guide leads you to a stunning medieval village for a quick walk and memorable pictures before heading to the second winery.
The most original wines of Tuscany
The last part of this day-tour is dedicated to a small family-run winery, famous for very original wines. The property is in a very welcoming hilly setting just along the medieval pilgrim road Via Francigena, a renowned pathway connecting Canterbury to Rome and passing right by San Miniato. At the property you will meet the friendly owners who will introduce to you the farm and welcome you in their house for a wine tasting full of interesting surprises, served with some focaccia, ham and cheese. Here you can taste some very original IGT wines along with a fantastic Chianti and an unforgettable Vinsanto.
Our wine tour to the hills around Florence allows you to taste at least 8 different wines.
What you taste
This is a list of specialties that you are likely to sample as part of the program of this tour. Please, note that the specialties of the tasting session and/or lunch may vary according to the season and the availability of the products in the day of the tour.
Whom you meet
In our tour we like showing you places off the beaten track and introducing you to Tuscan people with their personal stories, careers and characters.
You will have one of our guides with your party during the whole tour. Please, see below all the guides who can be with you. During this experience you can also meet some of the Tuscan friends involved in the events. Please, see below which friends you are likely to encounter.
Rates
Rates Table
The total rate for this activity varies according to the number of people in your party.
Check rates in the table below.
Wine tour to two original wineries near San Miniato

with wine samplings and lunch

– RATES 2019 –

NUMBER OF PEOPLE IN YOUR PARTY

TOTAL RATE

2 persons
€ 380
3 persons
€ 450
4 persons
€ 520
5 persons
€ 590
6 persons
€ 660
7 persons
€ 730
Extra Adult
€ 70
Extra Teenager (12-17 yrs)
€ 50
Extra Child (4-11 yrs)
€ 40
Rates include
A tour leader for the whole tour
A guided visit to a biodynamic winery with sampling of wines and lunch
A guided visit to a small family-run winery with sampling and snacks
Quick walk in a medieval village
Tax
Rates do NOT include
Transportation is not included in the rates above. For more info on transportation, please see the box "Transportation options".
Testimonials from our guests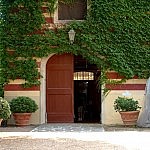 Here is the enthusiasm of Bianca after a guided wine tour with Massimo:
The wine tour was fabulous. Our guests were talking about it all week!
Massing was fantastic, knowledgable and clearly passionate about wine making. The luncheon was absolutely delicious. Thank you for a wonderful day!!
Cheers
Bianca
This is a message of appreciation sent to us by a couple from Danemark who took a private winery tour in Tuscany with our expert wine guide
Hi Arianna and friends,
We want to thank you for a fantastic wine tour last week! Massimo was a excellent guide with a lot of knowledge about the vineyards we were visiting, and very pleasant to speak with:)
You will definately be recommended to everyone we know who wants to go to Tuscany, and we ourselves is concidering a holiday on a vineyard for the next time we are going.
We hope to keep in touch.
Best regards,
Signe & Anders from Denmark
Info & Details
LOCATION OF ATTRACTIONS:
This tour takes place in the rural area of San Miniato, between Pisa and Florence.

MEET-UP LOCATION:
Unless differently specified, the tour guide meets you at a meeting point near San Miniato.

DURATION:
This program takes 6 hours. Time for transportation not included.

AVAILABILITY:
Available all year through, from Mondays through Fridays.

LANGUAGE:
This tour is available in English language. German, French, Spanish, Russian or Italian are also available with no surcharge.

DIFFICULTY LEVEL:
Easy

CHILD FRIENDLY:
Not ideal for children

CLOTHING:
No particular clothing required.

FOOD RESTRICTIONS:
The foods served during this tour might contain gluten, lactose, nuts and alcohol. If you have any food restriction, please inform our personnel during the enquiry process.

TRANSPORTATION:
This program and its rates do not include transportation and are set on a self-driving base. For further information see the box "transportation options".
Transportation options
The destinations reached during this activity are in the Tuscan countryside, in areas off the beaten track that cannot be reached by public transport. We highly recommend renting a car in order to reach them. As an alternative, we can offer a valued service by chauffeured car, van or minibus. Any cost of transportation is to be added to the rates displayed on the rate table of this page.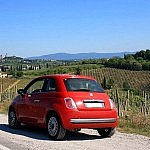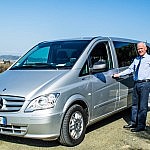 Organize your perfect vacation with us!
Booking office opening hours:
Monday through Friday 9am-6pm
Contact us