The famous butcher & the original winery in San Miniato
Availability: Mondays , Tuesdays , Thursdays , Fridays , Saturdays
Duration: 5 hours
Rates
WINES, SALAMIS & THE MOST STUNNING VIEWS
The pearl of central Tuscany and its most original winery & butcher's. A guided tour to an agricultural area producing a great variety of excellent wines, whose center, San Miniato, is also a marvellous town of unexpected art and a breathtaking panoramic hilltop in the very center of Tuscany.
Undiscovered art & history in San Miniato
This tour focuses on the beauties and characters of the historical town of San Miniato. Its name is today associated by most people to the festival of white truffles but San Miniato is an ancient town that has had a very important historical role throughout the centuries and has been a major stop along the pilgrim route Via Francigena during the middle ages. Our tour leader will take you to an incredibly panoramic fortress on the hilltop from which you will stare at the magic of the Tuscan countryside.
The visit to a butcher's & lunch in a panoramic terrace
After shortly walking in town, time for some relaxation and for pleasing the palate at the most renowned butcher's shops of central Tuscany: we visit the shop of Falaschi and learn how they produce and age delicious salamis, prosciutto and several cold meats of the local gastronomic tradition. A full lunch with all their produce is then served in an enchanted private terrace with a unique view over the hills surrounding the town. Lunch includes cold meats, a fresh tartare, a pasta dish and a glass of local wine.

An original winery near San Miniato
The territory of San Miniato is spotted with a lot of small family-run wineries producing very original and delicious wines. Our tour ends with the visit to one of these companies, in a beautiful countryside. Our guide and a representative of the winery show you the reasons why their wines are so peculiar and you will learn a lot about the winemaking techniques of Tuscany and the features of the wines of San Miniato.
At the end of the visit to the winery, you will relax in a tasting room where the best wines of the company will be served in a guided wine sampling session.
Wine & cold meats as the expression of a whole region!
What you taste
This is a list of specialties that you are likely to sample as part of the program of this tour. Please, note that the specialties of the tasting session and/or lunch may vary according to the season and the availability of the products in the day of the tour.
Whom you meet
In our tour we like showing you places off the beaten track and introducing you to Tuscan people with their personal stories, careers and characters.
You will have one of our guides with your party during the whole tour. Please, see below all the guides who can be with you. During this experience you can also meet some of the Tuscan friends involved in the events. Please, see below which friends you are likely to encounter.
Rates
Rates Table
The total rate for this activity varies according to the number of people in your party.
Check rates in the table below.
Original winery tour & lunch at the FAMOUS butcher's

– RATES 2019 –

NUMBER OF PEOPLE IN YOUR PARTY

TOTAL RATE

2 persons
€ 330
3 persons
€ 395
4 persons
€ 460
5 persons
€ 525
6 persons
€ 590
7 persons
€ 655
Extra Adult
€ 65
Extra Teenager (12-17 yrs)
€ 50
Extra Child (4-11 yrs)
€ 30
Rates include
A tour leader for the whole tour
A quick walk in San Miniato
A visit to a butcher's shop
A full lunch with cold meats and other specialties in the butcher's private terrace
A guided visit to a family-run winery
A sampling of wines at the winery
Tax
Rates do NOT include
Transportation is not included in the rates above. For more info on transportation, please see the box "Transportation options".
Testimonials from our guests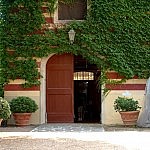 This is a message of Ian from Canada who visited our wine estate near San Miniato while staying in Tuscany with his family:
Hi Consuelo
Thank you for your e-mail.
I wanted to drop you a note of thanks for arranging such a wonderful day for our family.
To begin with, the tour of Lucca with Wanda was fantastic. Her historical knowledge made for a very interesting morning and her enthusiasm throughout the tour brought the town to life! Please pass on our thanks and appreciation to Wanda.
And just when we thought things couldn't get any better, we had an absolutely wonderful afternoon during our wine tasting tour at Cosmo's estate.
Laura (from Ireland!) was a perfect hostess. She took us on a relaxing tour of the gorgeous grounds (with lots of grapes to sample), explained the wine making process and finished with a casual and very enjoyable hour of outdoor wine and olive oil tastings in the family gardens. What a perfect way to spend an afternoon. We purchased some wine and olive oil and both were a big hit with family and friends back here in Canada.
Thanks again, Consuelo, for organizing our day, (suggesting that we see Pisa on our own) and allowing us to meet such wonderful people like Wanda and Laura. Our memories of our day in Tuscany are fond indeed and we would highly recommend our tour experiences to others.
Hopefully we will come to visit once again. If so, we will be sure to contact you.
Yours truly,
Ian
Info & Details
LOCATION OF ATTRACTIONS:
This tour takes place in the rural area of San Miniato.

MEET-UP LOCATION:
Unless differently specified, the tour guide meets you at a meeting point near San Miniato.

DURATION:
This program takes 5 hours. Time for transportation not included.

AVAILABILITY:
Available all year through, from Mondays through Saturdays (not on Wednesdays).

LANGUAGE:
This tour is available in English, French or Italian language.

DIFFICULTY LEVEL:
Easy

CHILD FRIENDLY:
Ideal for children

CLOTHING:
No particular clothing required.

FOOD RESTRICTIONS:
The foods served during this tour might contain gluten, lactose, nuts and alcohol. If you have any food restriction, please inform our personnel during the enquiry process.

TRANSPORTATION:
This program and its rates do not include transportation and are set on a self-driving base. For further information see the box "transportation options".
Transportation options
The destinations reached during this activity are in the Tuscan countryside, in areas off the beaten track that cannot be reached by public transport. We highly recommend renting a car or a scooter in order to reach them. As an alternative, we can offer a valued service by chauffeured car, van or minibus. Any cost of transportation is to be added to the rates displayed on the rate table of this page.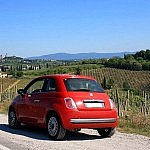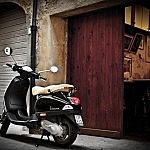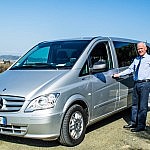 Organize your perfect vacation with us!
Booking office opening hours:
Monday through Friday 9am-6pm
Contact us