Special Christmas cooking class in Tuscany
Availability:
Duration: 6 hours
Rates
At MY TUSCAN KITCHEN COOKING SCHOOL
Cooking school in the rural Tuscany
Join our unique cookery classes available only on Monday December 23rd 2019 at 3:30 pm and on Friday December 27th 2019 at 3:30 pm with special Christmas Program!
Groups of min 4 and max 16 people.
Special Christmas Tuscan Cooking program – Special focus on TUSCAN CHRISTMAS SPECIALTIES with hands-on preparation of several courses and following rich lunch or dinner.

The cooking school of the rural Tuscany
My Tuscan Kitchen, the first cooking school in the rural Tuscany in the area of Terre di Pisa, near Volterra, San Gimignano and Pisa.
The cooking venue is at an authentic farmhouse a few minutes from the village of Peccioli, a location where you can enjoy wonderful surrounding views from a charming hilltop. Adults and children, foodies and fans of Tuscany in general are welcome to participate. Our local chef teaches you how to prepare some of the most traditional recipes of Tuscany and Italy, using just fresh and genuine ingredients.
Our assistant tells you a lot of anectodes and facts about the country life style of Tuscany along with interesting information on its history and traditions. At the end of this amazing hands-on and educational experience, everyone sit at the table, toast with some good local wine and enjoy the dishes prepared and the company of the whole group.
Special shared cooking class:    CHRISTMAS TUSCAN COOKING CLASS
Available only on Monday December 23rd 2019 at 3:30 pm and on Friday December 27th 2019 at 3:30 pm with Christmas Dinner – In this program you prepare a full lunch or dinner with antipasto, primo, secondo and dessert for about 3 hours before you sit at a table with all other participants and enjoy dinner with all prepared foods. Excellent local wines will be served as well.
This is not only cooking but an authentic Tuscan experience.
Let's mEat!
What you taste
This is a list of specialties that you are likely to sample as part of the program of this class. Please, note that the specialties of the menu prepared at the class may vary according to the season and the availability of the products in the day of the class.
Whom you meet
In our cooking class we like telling you a lot about Tuscan farms and farmers' cooking traditions, introducing you to Tuscan people with their personal stories, careers and characters.
You will have one of our guides as a language assistants and coordinator with you during the whole class. Please, see below all the guides and language assistants who can be with you.
During this experience you will also meet one of our Tuscan cooks who give you the cooking class. Please, see below which cooks you are likely to encounter.
Rates
Rates Table
The rates for these activities vary according to the age of the participants.
Check rates in the table below.
JOINABLE COOKING CLASS:
Special Christmas cooking class in Tuscany

SMALL GROUP COOKING CLASSES DURING CHRISTMAS FESTIVITIES

– RATES 2019 –

Age of participant
Rate per participant
Adults
€ 90
Teenagers (12 – 17 yrs)
€ 60
Children (4 – 11 yrs)
€ 40
Extra partecipant only for dinner
€ 35
Min 4 participants – Max 16 participants
Rates include
A professional chef & granny
An English speaking assistant
A second assistant (for classes with more than 8 participants)
Full cooking class
All food & wine
Printed material
Personal aprons as souvenirs
Served full dinner
Tax
Rates do NOT include
Transportation is not included in the rates above. For more info on transportation, please see the box "Transportation options".
Testimonials from our guests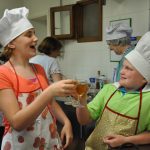 Here the message of Thu who took part to our christmas cooking lesson with her two young children:
Hello
Thank you for the cooking class. We had a wonderful experience as a family. Could you send us the recipes for all the dishes we made?
Thu
Info & Details
LOCATION OF THE COOKING VENUE:
This cooking class takes place on a farm near the village of Peccioli, in central Tuscany, among Pisa, San Gimignano and Volterra.

MEET-UP LOCATION:
Unless differently specified, the meeting point with the language assistant directly at the premises of the cooking school. Detailed information and road instructions will be provided at the booking stage.

DURATION:
Our programs take 6 hours: 3.5 hours for cooking and the rest for dinner and relaxation. Time for transportation not included.

AVAILABILITY:
The program "Christmas Tuscan Cooking" is available is available only on Monday December 23rd 2019 at 3:30 pm and on Friday December 27th 2019 at 3:30 pm, with Christmas dinner served at 7 pm.

LANGUAGE:
This class is available in English with no surcharge. German, French, Spanish, Russian or Italian are also possible upon booking with no surcharge.

DIFFICULTY LEVEL:
Easy

CHILD FRIENDLY:
Ideal for children

CLOTHING:
No particular clothing required.

FOOD RESTRICTIONS:
The foods served during this cooking class might contain gluten, lactose, nuts and alcohol. If you have any food restriction, please inform our personnel during the enquiry process.

TRANSPORTATION:
This program and its rates do not include transportation and are set on a self-driving base. For further information see the box "transportation options".
Transportation options
The destinations reached during this activity are in the Tuscan countryside, in areas off the beaten track that cannot be reached by public transport. We highly recommend renting a car or a scooter in order to reach them. As an alternative, we can offer a valued service by chauffeured car, van or minibus. Any cost of transportation is to be added to the rates displayed on the rate table of this page.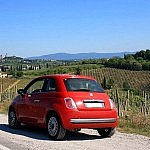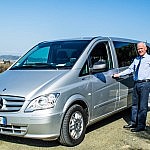 Organize your perfect vacation with us!
Booking office opening hours:
Monday through Friday 9am-6pm
Contact us