Terre di Pisa DOC three-winery tour
Availability: Mondays , Tuesdays , Wednesdays , Thursdays , Fridays , Saturdays
Duration: 7 hours
Rates
A very original guided wine tour for wine lovers who want to discover something very original and fascinating.
This is the first guided tour to three of the wineries that recently founded the newest of the Tuscan DOC appellations: Terre di Pisa. A delicious red wine based on Sangiovese grapes cultivated in the wine districts of Terricciola, Palaia, Peccioli and Volterra. Explore a wonderful area with breathtaking sceneries spotted with picturesque small medieval villages.
Terre di Pisa is also a territorial marketing project for tourism promotion of the area. Arianna & Friends is a founder and promoter of this project.
A scenic winery by Terricciola
Our guided tours to the terroir of Terre di Pisa starts in Terriciola with an introduction to the whole district of the Pisan Hills and to the concept of a wine and a wine region called Terre di Pisa. You will learn stories about how the area suddenly boomed in wine making a few decades ago and about how all local producers got together under a new denomination. The charme of all this story is how nicely all the winemakers of the region cooperate in order to make the name of their terroir and how they are all good and loyal friends.
We will start visiting a beautiful and scenic winery run by a local family where you will learn about wine making techniques while visiting their impressive premises. Here you will also taste 4 of their best wines, of course including their DOC Terre di Pisa, accompanied with some crackers and bread as a little snack.
Art & wine at a spectacular architecture-designed winery
The second guided visit during our tour is at a very beautiful building, designed by a famous architect for a new concept of winery: the winery as a place for producing excellent wines but also to enjoy art and music. You will meet the winemakers in person and learn about their idea of building an impressive place in a very picturesque location, with the most advanced technologies for energy efficiency. After visiting the winery, and enjoying their temporary art exhibition, you will sit in a very panoramic tasting room and enjoy 2 of their best wines accompanied by a delicious lunch.
A relaxing wine bar on a wine farm
The last stop along our route will be another very fascinating farm resulting from the restoration of an old sharecroppers farm. It is a family run business that also offers accommodation in the famous "agriturismo" formula. The company is particularly successful at exporting wines from the area. Here you will see the property and stop at their lovely wine bar where you will enjoy their wine DOC Terre di Pisa.
The most exhaustive of all our wine tours!
What you taste
This is a list of specialties that you are likely to sample as part of the program of this tour. Please, note that the specialties of the tasting session and/or lunch may vary according to the season and the availability of the products in the day of the tour.
Whom you meet
In our tour we like showing you places off the beaten track and introducing you to Tuscan people with their personal stories, careers and characters.
You will have one of our guides with your party during the whole tour. Please, see below all the guides who can be with you. During this experience you can also meet some of the Tuscan friends involved in the events. Please, see below which friends you are likely to encounter.
Rates
Rates Table
The total rate for this activity varies according to the number of people in your party.
Check rates in the table below.
Terre di Pisa DOC three-winery tour

with wine sampling and lunch

– RATES 2019 –

NUMBER OF PEOPLE IN YOUR PARTY

TOTAL RATE

2 persons
€ 420
3 persons
€ 510
4 persons
€ 600
5 persons
€ 690
6 persons
€ 780
7 persons
€ 870
Extra Adult
€ 90
Extra Teenager (12-17 yrs)
€ 35
Extra Child (4-11 yrs)
€ 20
Rates include
A guided visit to three wineries
Guided wine tasting sessions of 7 different wines
Full lunch at one winery – 3 courses
Snacks with some local specialties at the other wineries
A private English speaking tour leader for the whole tour
Tax
Rates do NOT include
Transportation is not included in the rates above. For more info on transportation, please see the box "Transportation options".
Info & Details
LOCATION OF ATTRACTIONS:
This tour takes place in the rural area of Terricciola, Peccioli and Volterra, not far from Pisa.

MEET-UP LOCATION:
Unless differently specified, the tour guide meets you at a meeting point near Terricciola.

DURATION:
This program takes 7 hours. Time for transportation not included.

AVAILABILITY:
Available on any day of the week, from Mondays through Saturdays.

LANGUAGE:
This tour is available in English language. German, French, Spanish, Russian or Italian are also available with no surcharge.

DIFFICULTY LEVEL:
Easy

CHILD FRIENDLY:
Not ideal for children

CLOTHING:
No particular clothing required.

FOOD RESTRICTIONS:
The foods served during this tour might contain gluten, lactose, nuts and alcohol. If you have any food restriction, please inform our personnel during the enquiry process.

TRANSPORTATION:
This program and its rates do not include transportation and are set on a self-driving base. For further information see the box "transportation options".
Transportation options
The destinations reached during this activity are in the Tuscan countryside, in areas off the beaten track that cannot be reached by public transport. We highly recommend renting a car or a scooter in order to reach them. As an alternative, we can offer a valued service by chauffeured car, van or minibus. Any cost of transportation is to be added to the rates displayed on the rate table of this page.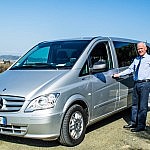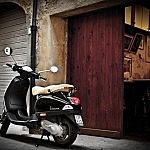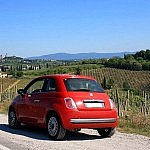 Organize your perfect vacation with us!
Booking office opening hours:
Monday through Friday 9am-6pm
Contact us