Organic winery & noble palace tour
Availability:Mondays , Tuesdays , Wednesdays , Thursdays , Fridays
Duration:3 hours or 3,5 hours
Rates
FEEL LIKE A COUNT FOR A DAY
In a historical winery right in the middle of a medieval village, a beautiful half-day tour dedicated to a winemaking farm founded centuries ago by a Tuscan count at his residential palace. A great way to learn about the agricultural model that developed Tuscany for hundreds of years while visiting a stunning aristocracy property and finally tasting delicious Supertuscan wines and foods!
The guided visit to Ghizzano
We will start our visit discovering Ghizzano, a little hamlet where just 300 persons live, perched on the top of the hill, and surrounded by vineyards and olive groves. Close to a little oratory that preserves a couple of wooden statues from the 14th Century, we will find the first contemporary art work, an interesting sculpture of the artist Alicja Kwade, whose works are visible also in the town center.
During our stroll in the little lanes of the village, we will admire several contemporary art works that dialogue with some ancient buildings of the village and we will walk in the most famous work of art in town, Via di Mezzo, a street completely decorated by the famous British artist David Tremlett.


The country residency of Pisan aristocracy
You will visit the private rooms in the palace of Countess Carla, who still lives there. The breathtaking view form the tower roof is a must to enjoy a 360° panorama over the Tuscan hills. You'll also have a walk in the streets of the colored village, full of contemporary works of art.
Our guided walk continues in the beautiful gardens of the estate, a perfect example of a "giardino all'italiana", with symmetrically trimmed autoctonous and exotic plants and a very nice population of turtles.
Exclusive Supertuscan wines and snack or light lunch in a stunning cellar
Finally, you will enter the old historical cellars where the top wines are "sleeping" in the wooden barrels, and taste 5 of their delicious organic wines combined with cheese and cold cuts from organic production. You'll taste 1 white wine, 1 basic red wine, 2 aged red wines, 1 special wine aged in a peculiar amphora.
What you taste
This is a list of specialties that you are likely to sample as part of the program of this tour. Please, note that the specialties of the tasting session and/or lunch may vary according to the season and the availability of the products in the day of the tour.
Whom you meet
In our tour we like showing you places off the beaten track and introducing you to Tuscan people with their personal stories, careers and characters. You will have one of our guides with your party during the whole tour. Please, see below all the guides who can be with you. During this experience you can also meet some of the Tuscan friends involved in the events. Please, see below which friends you are likely to encounter.
Rates
Rates Table
The total rate for this activity varies according to the number of people in your party and the food option you prefer.
Check rates in the table below.
ORGANIC WINERY & NOBLE PALACE TOUR

WINE TASTING + SNACK

– RATES 2023 –

NUMBER OF PEOPLE IN YOUR PARTY

TOTAL RATE

2 persons
€ 360
3 persons
€ 435
4 persons
€ 510
5 persons
€ 585
6 persons
€ 660
7 persons
€ 735
7 persons
€ 810
Extra Adult
€ 75
Extra Teenager (12-17 yrs)
€ 50
Extra Child (4-11 yrs)
€ 30
Rates include
A private English speaking tour leader for the whole tour. Also available in French, German, Spanish and Russian
Guided visit to the village of Ghizzano
A visit to premises of the winery: the villa, the gardens and the cellar
A guided wine tasting with snacks
Tax
Rates do NOT include
Transportation is not included in the rates above. For more info on transportation, please see the box "Transportation options".
Testimonials from our guests
This is a message of Arlene after joining Luca for a private winery tour in Tuscany
Dear Luca
I have now just gotten the time to thank you so very much for your very professional and cordial assistance.  You were truly a bright spot in our vacation and we enjoyed the cooking class and the wine tour.  We have already told our friends about Arianna & Friends and your expert service in the Tuscany area.  Please keep our e-mail and if you ever have the chance to come to the states, please e-mail us and we will be sure to show you our lovely city of Philadelphia and our home in the country and at the beach.  Please tell Arianna that you are what we Americans say "a keeper" and her business will flourish with an employee like you.
Thank you again with all the help you gave us and all the courtesy you showed.
Sincerely,
Arlene
PS.  If possible, you said  you could e-mail us the recipes from our cooking class!!!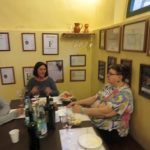 This is the comment of Kenneth after a private tour to a winery with Moira:
Cheryl and I are now home with fond memories of our time in Tuscany this year.  We are very thankful to Arianna and Friends for many fun days.
We look forward to seeing you again next year
Info & Details
LOCATION OF ATTRACTIONS:
This tour takes place in the rural area of Peccioli, between Pisa and Volterra.

MEET-UP LOCATION:
Unless differently specified, the tour guide meets you at a meeting point in Peccioli.

DURATION:
This program takes 2,5 hours, in the morning or in the afternoon, in case of simple snack or 3 hours, in the morning in case of full lunch. Time for transportation not included.

AVAILABILITY:
Available all year through, from Mondays through Fridays.

LANGUAGE:
This tour is available in English language. German, French, Spanish, Russian or Italian are also available with no surcharge.

DIFFICULTY LEVEL:
Easy

CHILD FRIENDLY:
Ideal for children

CLOTHING:
No particular clothing required.

FOOD RESTRICTIONS:
The foods served during this tour might contain gluten, lactose, nuts and alcohol. If you have any food restriction, please inform our personnel during the enquiry process.

TRANSPORTATION:
This program and its rates do not include transportation and are set on a self-driving base. For further information see the box "transportation options".
Transportation options
The destinations reached during this activity are in the Tuscan countryside, in areas off the beaten track that cannot be reached by public transport. Even though the location of this tour can be reached by public buses, we highly recommend renting a car or a scooter in order to reach it as the bus service can be limited and particularly reduced on weekends and in the Summer. As an alternative, we can offer a valued service by chauffeured car, van or minibus. Any cost of transportation is to be added to the rates displayed on the rate table of this page.
Organize your perfect vacation with us!
Working hours:
Monday through Friday 9am-6pm
Contact us